Used Ford F-150 for sale in Belleville, Ontario
Used Ford F-150 for Sale in Belleville, Ontario
Used Ford F-150 Pickup Trucks For Sale in Belleville, Ontario
When shopping for a used Ford pickup truck in Belleville, Ontario, or the surrounding areas, there's no better place to visit than our dealership here at Performance Sales & Leasing. We have been in the business of selling and building used trucks for years, making us the ideal place to visit to find a high-quality F-150 model that's fairly newer with low mileage. You are welcome to stop by our dealership to browse through our selection and be sure to test drive any used truck that sparks your interest.
Engine Options & Performance
Through our used Ford F-150 inventory, you will find various engine options across our selection. The engine options you can expect from our models include a 2.7-litre V6, 5.0-litre V8, 3.5-litre V6, 4.6-litre V8, and 3.3-litre V6. Various versions of these engine options differ between model years, giving you different output figures. For the 2022 model year, the engine options include a 325-horsepower 2.7-litre EcoBoost, 290-horsepower 3.3-litre V6, 400-horsepower 5.0-litre V8, and an array of 3.5-litre EcoBoost engines with an output of 400-450 horsepower.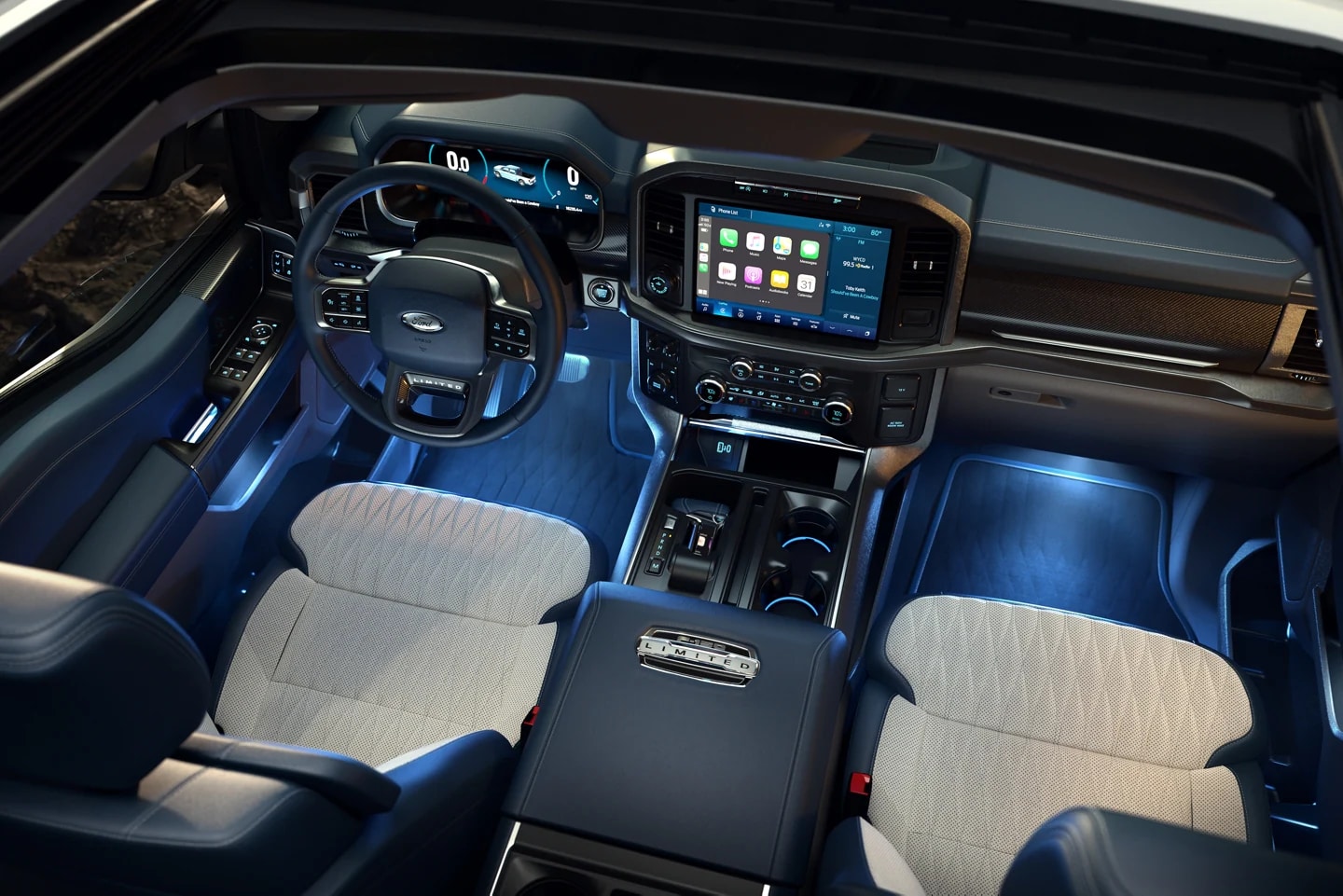 Interior Features & Cab Configurations
The F-150 pickup truck lineup has multiple models for you to choose from, with the base offering featuring the basics needed around the job site. In contrast, higher models get enhanced comfort and luxury inside the cabin, including leather-faced upholstery, heated and ventilated front seats, and much more. You can also find F-150 models in various cab configurations, including the Regular Cab, Super Cab, and SuperCrew, giving you the seating capacity you need to accommodate passengers comfortably.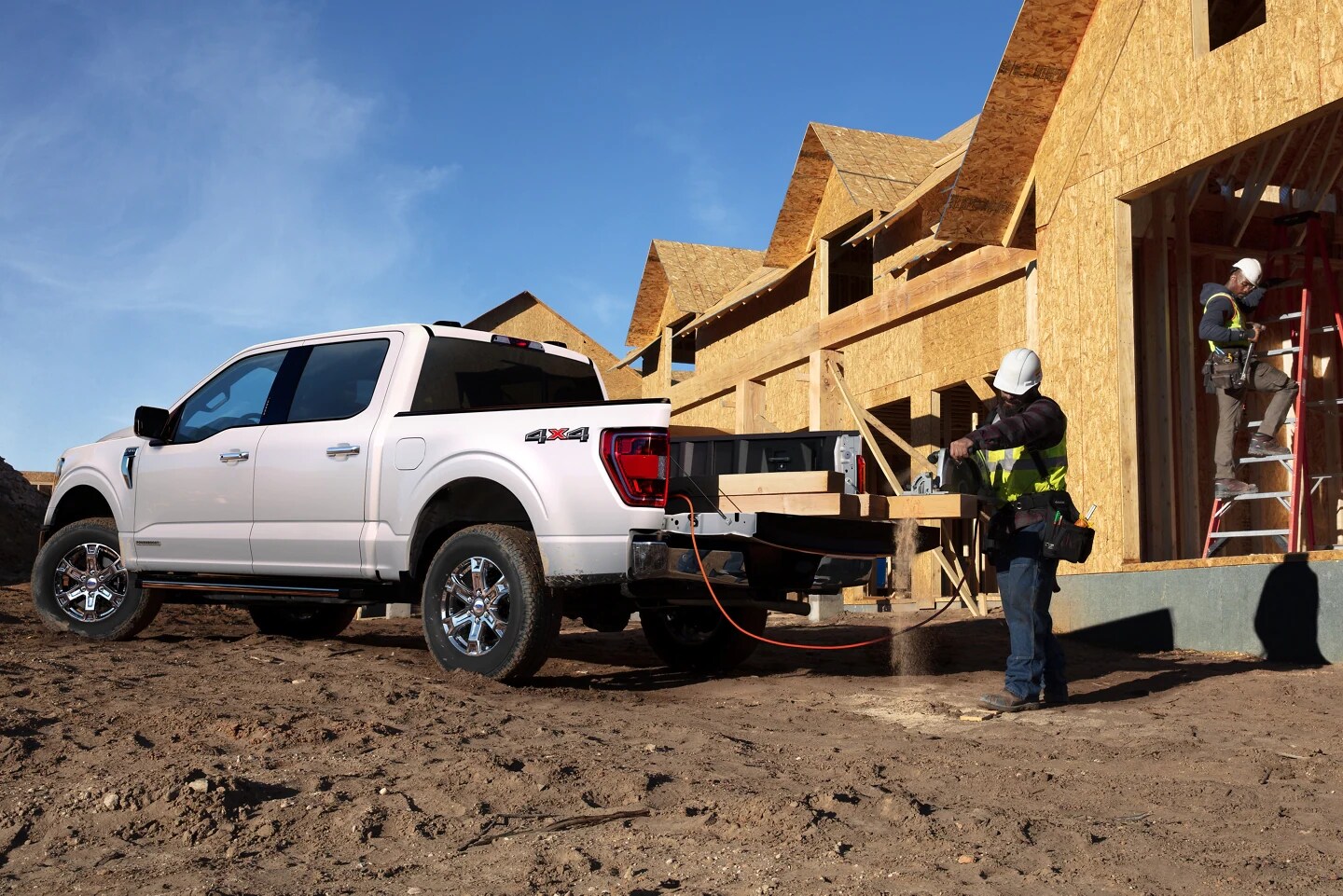 Exterior Design & Features
F-150 pickup trucks have maintained sleek and sophisticated looks across the generations. Still, the newer models have a more modern appearance that brings an array of attractive exterior features such as LED lighting, bold accents, and sporty finishes. Depending on the model, model year, and package, F-150 pickup trucks can have different looks that let them stand out within their lineup. You will also find models in numerous body colours and wheel options, letting you get a truck that suits your styling preferences.
Towing Capacity
The towing capacity of an F-150 will vary based on its generation, engine option, drivetrain option, cab and bed configurations, and a few other aspects that affect towing capability. From our selection, you will find multiple F-150 pickup trucks that range in age, providing you with a towing capacity of 7,600 pounds up to 14,000 pounds. Older F-150 models will have a towing capacity within this range, while the newest models can be properly equipped to reach the maximum towing capacity of this platform. You are welcome to contact us to discuss your towing needs, and we will do our best to match you with a Ford that will meet or exceed your expectations.
FAQs
The 2022 F-150 lineup has many models similar to the previous generation of F-150 pickup trucks. However, the current lineup from Ford features models like the XL, XLT, Lariat, King Ranch, Platinum, Limited, Tremor, and Raptor. Those models each offer unique features and capabilities, giving you the exact performance you need to get through your daily commute or weekend adventures. Older generation F-150 pickup trucks will share some of the latest lineup models, but not all.
For the 2022 model year, the F-150 lineup is topped by the Raptor model, which is off-road-oriented, while older F-150 lineups used to have the Limited model as the top, featuring outstanding luxury and comfort.
Ford has multiple truck lineups, including full-size and mid-size pickup trucks, catering to various needs and wants. However, Ford's full-size pickup trucks are the F-150 and Super Duty models, with the F-150 being a light-duty truck while the Super Duty models serve the heavy-duty segment.
Financing Options
Please complete a financing application through our Finance Centre and bring your current vehicle as a trade-in towards a Ford F-150 today. Our experts will gladly assist you throughout your Ford pickup truck's shopping and purchasing process, giving you everything you need to drive home completely satisfied.